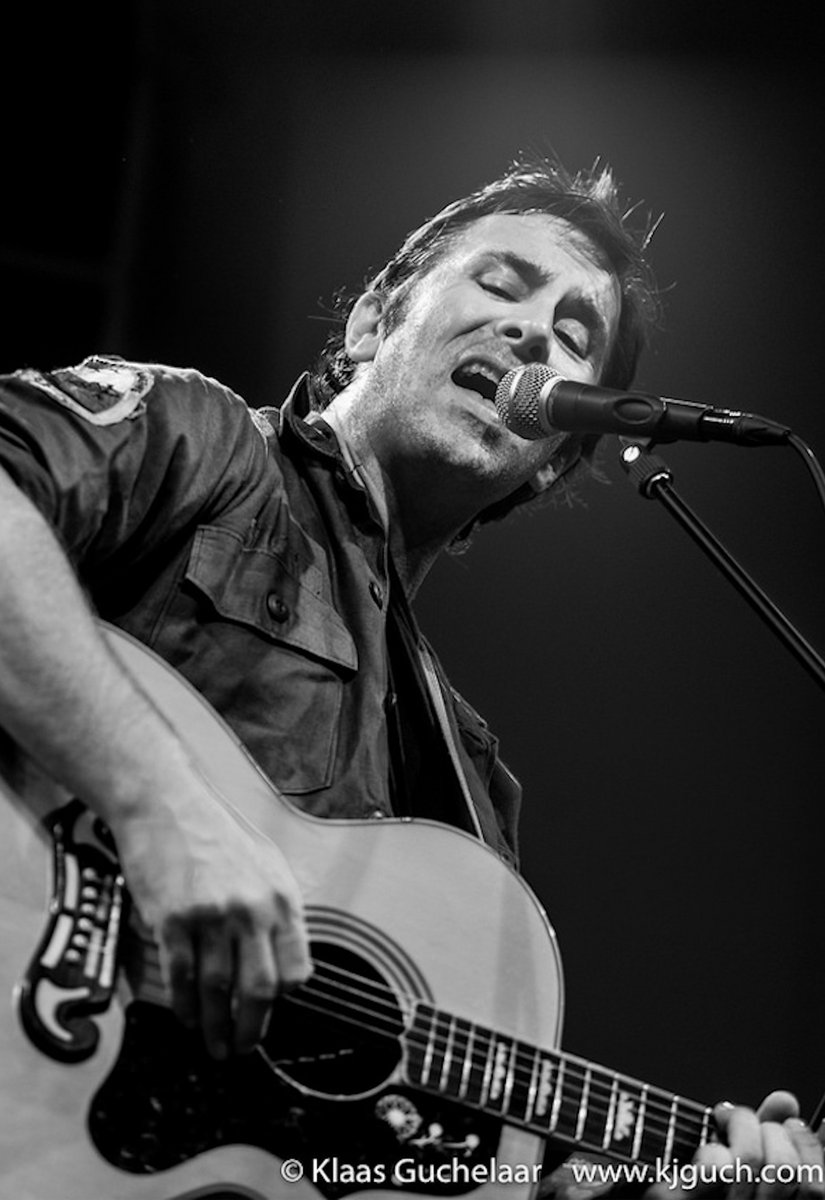 Mike June bio

Mike June makes decidedly timely music, but he does far more than document an era of unease. He has mastered the precarious balance between despair and hope and rendered it melodic across five albums, including Poor Man's Bible, released on Slothtrop in 2016.
"It's discovering artists like Mike June what makes this all worthwhile; he can certainly write a song; and the theme throughout of the 'working man of all colours and persuasions is being trampled on' but his execution of those songs is second to none," writes the Rocking Magpie music blog of Poor Man's Bible. They add that June "certainly has his finger on the button in a way Bruce hasn't had for 20 years or more."
One year and one brutal election later, June is pushing that button hard. The results of that are clear in the three-songs that comprise June's new single, Alright, out July 14 on Slothtrop. The single features the Raleigh, NC band The Backsliders, and also guest stars June's wife, Jess Klein, on backing vocals.
Born in rural New York and raised in New Jersey, June also did a stint in Austin (where he released his first five records) before moving to North Carolina with his wife. Music has always been a big part of June's life. "I started pretending to play music at around age 3, miming Kiss songs with the neighbors, and strumming on my Grandfather's guitar while he sang Hank Williams' songs. I got into my first bands in high school, and formed my first professional band, Wide Load Joad, in 1999 before going solo and forming Mike June & The Dirty Doves in 2001," June remembers.
Over the years, June's focus on the very real stories of very real people has remained intact. "His music is what my generation needs, and what older generations need to remember. He sings love songs about the human experience – sometimes his own," writes William Harries Graham in The Austin Chronicle. "I consider him a storyteller of the revolution," Graham adds.
The title track on June's new single was written for June's wife after the 2016 election. "'I felt like we needed some reassurance in the house. It's easy to think that your problems are big when you're staring them right in the face, but in the big picture most people in the world struggle everyday, and that struggle is our common thread." It's a powerhouse ballad, fuzzy with electric guitar and propelled by insistent drums.
Alright also features a pitch-perfect cover of Lou Reed's 1989 song "Busload of Faith." "I think it's a perfect song for this time. I feel a deep connection to Lou Reed. We were both raised in the New York suburbs, English majors, raised on doo-wop and early rock and roll. I hope we did the song some justice," says June. The song darkly lists all the things we can't depend on, referencing concentration camps, abortion clinic protesters, and the fallibility of God. June delivers the verses with perfect grim realism that would do Reed proud.
"How Long" is driven by slow acoustic strumming, lap steel, and a bittersweet ache in June's voice. According to June, "The song is a bit of sarcasm and I'm taking in joy in being able to witness the strange times we are living in. You can't go back in time, so you might as well enjoy the moment."
Alright is out on Slothtrop on July 14, 2017 and will be available via major digital music sellers. For more information on Alright or Mike June, visit http://www.slothtrop.com or http://www.mikejune.com, or email yomike@mikejune.com.